March 16, 2016 9:35 pm
Leave your thoughts
Lizzie's Good Life – March 2016   Fish for Survival
I have resurfaced (!) having spent five months running on the 'treadmill' of motherhood. I'm juggling a new baby, toddler, puppy (what were we thinking), husband (!!), a home and family business.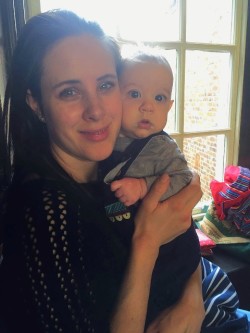 We are delighted to announce that I gave birth to baby Hector at home one night in early October. I am the luckiest lady alive to have two darling children, but it has been hard work, so forgive my five months' silence from writing articles, it sank to the bottom of my 'to do' list…
All is well at Pinewood Nurseries (thankfully, as I also faded into the darkness there). Spring is creeping up on us. Our plant nursery is filling up with thousands of bedding plants, some heading for top hotels like Stoke Park Club and others to gardens throughout Buckinghamshire, as we prepare for the annual retail 'onslaught'. Do pop by to take in the sight – full of colour and the fresh scent of spring.
This month I wanted to share with you my joy (apart from Hector obviously) that our farm shop now stocks fresh Cornish fish. Some regular readers will know how I love my meat but would you believe that I now have fish three times a week, having hated it until I met my husband at the age of 18. The fish is sourced by Matthew Stevens of St Ives, who also supply the Royal Windsor Farm Shop. We carry a small selection but offer a discount if you pre order with us and the fish is delivered in on a Friday morning and it only compares to eating fish in St Ives itself (my food heaven).
My current favourite recipe is by Jamie Oliver (30 minute Meals). He serves sea bass on a bed of coriander and sweet potato mash. Fry a few strips of pancetta in a pan and remove them to make way for the sea bass fillets. Cook them skin side down over a medium heat and season in the pan with crushed fennel seeds, salt and pepper and the grated zest of a lemon. Once the skin is golden and brown turn the heat down low, while you prepare your side of steamed broccoli and asparagus. Once you're ready to serve, take the pan off the heat and flip the fillets so the flesh side cooks gently, also return the pancetta to the pan to warm that up.
Serve the fish and pancetta piled on top of the coriander mash – it is divine.
We do 5% off all pre-ordered fish from Matthew Stevens (deliveries on a Friday for collection) so do give it a go  enquiry@pinewoodnurseries.co.uk   facebook.co.uk/pinewoodnurseries
Categorised in: Uncategorized
This post was written by Pinewood Nurseries