April 27, 2016 2:25 pm
Leave your thoughts
Lizzie's Good Life – no time for a good life…
April is the month we shout from the roof tops 'come to Pinewood Nurseries'. There's no time to get in my own garden when I have acres of bedding plants waiting for people to visit and thousands of hanging baskets to find homes for. Whether its designing leaflets, adverts or even writing a script for a radio promotion, there appears to be no end to the to do list for a small business owner (come mother of two).
The café is full of visitors enjoying the warm sun and good food. It's an absolute joy to be in our nursery this month. My favourite task for our business 'PR' is organising events. Although daunting at first, when the pieces do fit together I do feel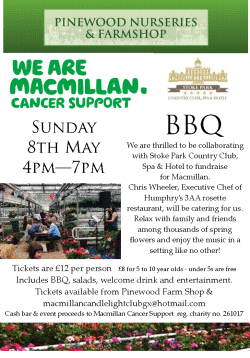 a real buzz of excitement. This year Stoke Park Club are collaborating with us for our annual Spring BBQ, to fundraise for Macmillan Cancer Support which is on Sunday 8th May. Mr. Chris Wheeler, Executive Head Chef of their three AA rosette re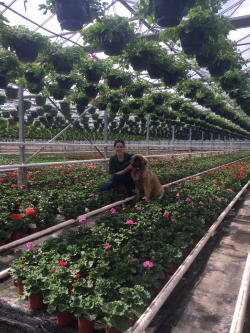 staurant, has agreed to cater for our event for free. We are ecstatic. And to top it off we have found a wonderful mix of musicians and a local magician to join us.
Next up, the Caldesi's event (and remember I'm still on maternity leave dragging my toddler and baby at my heels to these meetings). Katy and Giancarlo, owners of restaurants in Bray & Marylebone, two Italian star chefs working with us to put on a pop up restaurant to launch their two new books; 'Rome' and 'Around the world in Salads'. What has this got to do with selling bedding plants and hanging baskets? Well, it creates a buzz about the nursery and gets our taste buds going!
Last, but not least, our wonderful cookery club are hosting an evening under the stars in our green house café. The members cook the same recipes from a chosen menu at home to put together a wonderful three course meal. Non-members are most welcome and it's a marvellous community event. Do remember to put all three in your diary
So, add to this having to research for new products for the Farm Shop, do my VAT return and having sixty people coming to my house for my son's Christening on Sunday, is it any wonder I'm exhausted, but still loving the thrill of running a small business.
For further details on our events or hanging baskets please see our website www.pinewoodnurseries.co.uk or our facebook page www.facebook.com/pinewoodnurseries
Categorised in: Uncategorized
This post was written by Pinewood Nurseries