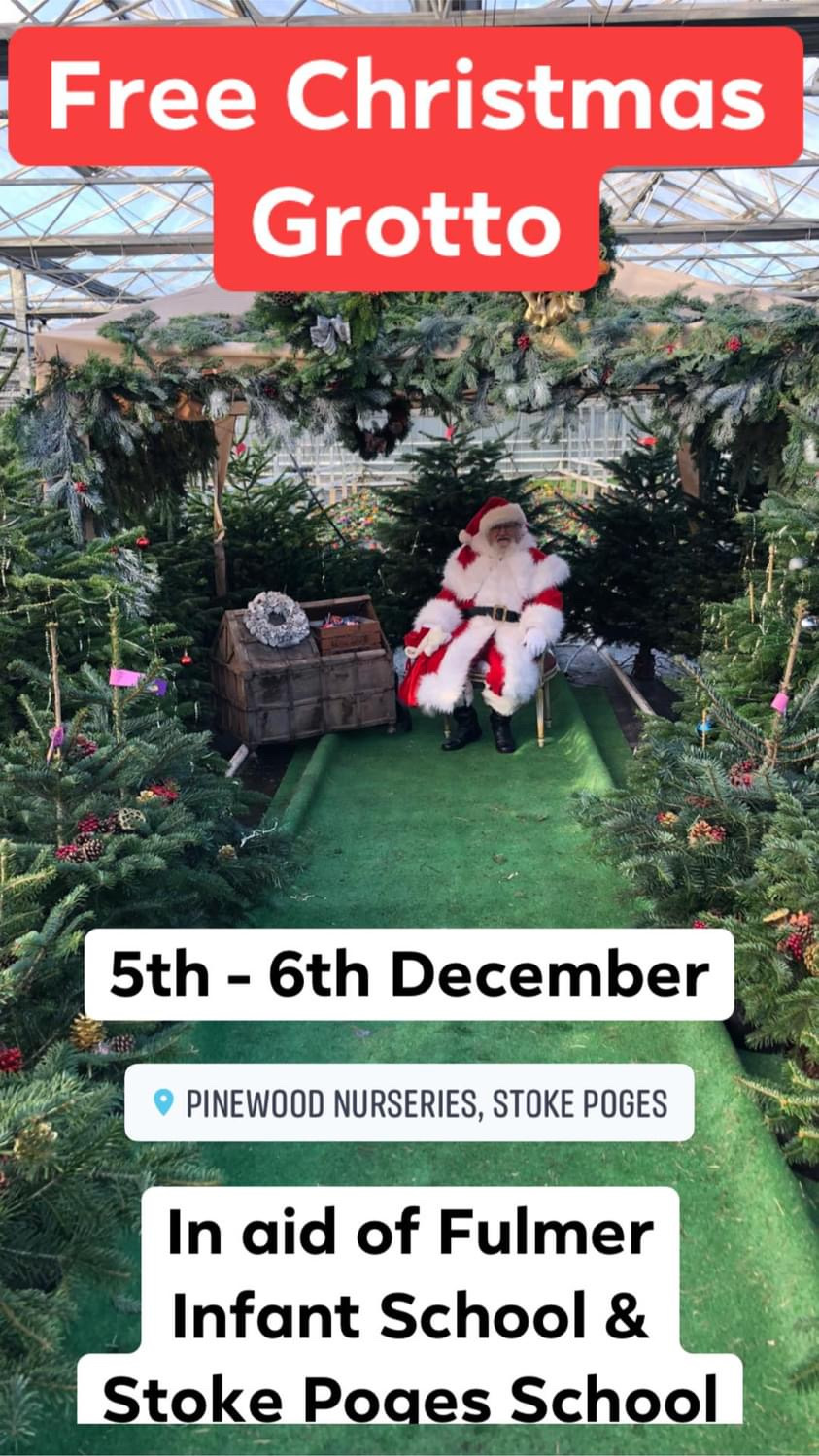 November 28, 2020 6:23 pm
Leave your thoughts
Free grotto and reindeer at Pinewood
Many people have been hit hard over COVID so our family business, Pinewood Nurseries, would like to give something for our community to enjoy.
As always, Father Christmas gives his time each year for free and we create a special grotto.
This time we have invited local schools to sell school fete goodies/refreshments so they can benefit from much needed donations. If you can't make it but would like to support their amazing parent fundraising teams at this time then please donate on our website. Scroll down to the bottom and you will see the donation button
We are supporting Stoke Poges Primary School and Fulmer Infant School ….. click to donate or book a fast track spot
https://plants.pinewoodfarmshop.co.uk/grotto
We're also delighted that we have organised for Santa's reindeer to come too… as our gift to the village… they will be here 10am – 2pm Saturday 5th and we will have a one way system in place.
During this time we ask people to keep moving around the reindeer pen so that we don't have queues forming and then you can move on to visit Father Christmas, but there won't be formal slots, you'll just get a few minutes to ask a couple of questions and have a socially distanced photo with him, we need to keep him well so he can do his big job on Christmas Eve!
There will then be a post box for kiddies to post their letters if they've brought one.
Father Christmas will be here 10am – 4pm Saturday and Sunday (5th & 6th). We have a few 'fast track slots' that can be booked. You pay £5 to be able to jump the queue (if there is one) and you then get that credit to spend in the farm shop (must be used the same day). This is to ensure Father Christmas is kept busy with a few visitors throughout the day.
https://plants.pinewoodfarmshop.co.uk/grotto
This is not a lavish/grand affair but an opportunity to give kiddies the chance to see Father Christmas, so we ask everyone to be considerate and keep it a quick hello/photo if it's busy so that no one has to wait long and everyone can enjoy themselves.
The cafe & farm shop  will be open, the Christmas trees available to browse, the goats and chickens will love a visit so if it happens to be busy there's still plenty to enjoy. The schools will also have stalls selling Christmas activity packs and baked goodies so please support them.
Please save the date – 5th & 6th December for a wonderful socially distanced experience.
Categorised in: Uncategorized
This post was written by Pinewood Nurseries