April 18, 2016 9:32 pm
1 Comment
Cookery Club Calendar Competition…
Pinewood Cookery Club, Stoke Poges
The cookery club started out four years ago over a cup of tea with a couple of new residents to Stoke Poges and has now grown to almost 60 members from in and around our village. On the last Saturday of every month at 11am, we meet at Pinewood Nurseries Café for a catch up. There ia a different theme each month to exchange recipes and members often bring tasters. We discuss ideas for future dinner evenings, restaurant outings and cookery adventures! The meet up is generally well attended with 15-20 people each month – non-members are very welcome. There's no fee to join, it's simply a community collaboration which stemmed from the customer base of Pinewood Nurseries. We just all share an enthusiasm for good food, some members can't even cook!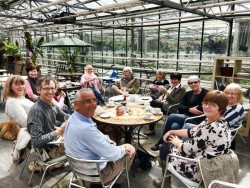 A current up and coming event is a preserve evening on 'fermenting' which has been organised by a member. Past events have included spectacular Fondu evenings, pasta demos, pizza making… there is an incredible list of things we have done.
Currently we are collaborating with the Stoke Poges Photo Club to put together a charity calendar which will be sold through local businesses to fundraise for Thames Hospice. Members are submitting tried and tested recipes in the hope of being featured in it(one monthly). We're including a bit on the history and context of how the monthly recipe was found, where the member first tasted it, whether it was handed down through their family. It's an exciting project. We have a fabulous committee putting it together, onerously taste testing, photographing the recipes and we would like to get more of the village involved.
We're inviting you to take part in this wonderful community project – a competition to be the Star Recipe. You will also win a £50 voucher for Pinewood Farm Shop. Please get your thinking hats on and submit your 'tried and tested' favourite recipes to liz@pinewoodnurseries.co.uk for consideration by 15th June.
Recipes will include seasonal ingredients – when you submit your recipes please indicate which months you think they would be most appropriate for
Ingredients should be able to be sourced locally wherever possible i.e. not some special ingredient that has to be shipped in from Mexico!!
When you submit your recipe/s, please can you include a photo if possible, taken from a mobile phone is absolutely fine (it just helps the selectors get a feel for the recipe when they can see the end result)
If you have any tips about the recipes, please let us know these when you submit them
We would like to include a few lines about the context or history of the recipe e.g. who it was handed down to you by, where you first tried it etc
We are looking for a variety of recipes i.e. not all main courses, so if you have a favourite canapé, jam, breakfast dish or pickle, please feel free to include them
Categorised in: Uncategorized
This post was written by Pinewood Nurseries